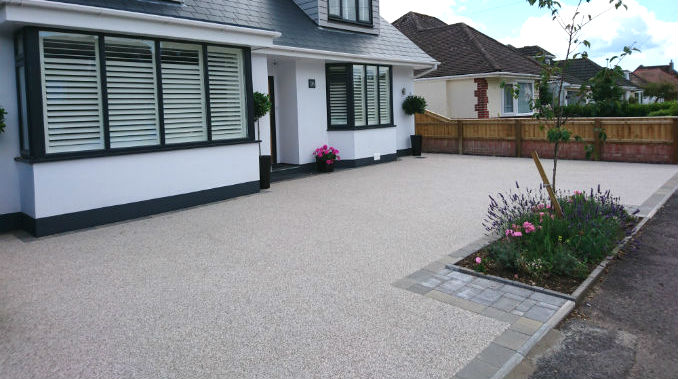 Paving made of resin bound stones consists of stones and resins that have been hardened together. As a result of its unique appearance, resin driveways have gained popularity in recent years compared to traditional alternatives.
But Resin Bound Drive is not always the best option, so why should you buy them? Here are the advantages and disadvantages of using resin so you can make the best decision.
Different resin bound drives
Resins are characterized by their permeability. Water soaks through onto the sublayers of the stones through minute voids between the stones, resulting in a well-drained surface. A SUD (sustainable urban drainage system) system is completely compliant and allows flood risk to be managed without any planning issues.
Overlaid tarmac or concrete drives are widely offered by contractors. Although it may seem cheap, this is not always the best option. Insufficient drainage can cause problems when overlaying tarmac and concrete drives with permeable resin. During the site inspection, your surveyor will determine the most appropriate course of action based on the individual case. It is a major no-no to overlay worn, abandoned, block paved or paved areas!
How to choose the best resin drive
There is no such thing as a "no maintenance driveway". As resin is not weedy and does not contain loose stones, it is easier to power-wash to keep it looking fresh, which is appealing to most customers. UV stable resin is recommended so that the artwork does not fade in a strong summer sun. Additionally, the anti-slip coating makes it frost resistant.
Compared to a block paved driveway, installing resin driveways requires more work and costs more. There are cheaper alternatives to resin driveways.
Generally, resin driveways last for 25 years if properly laid, but installers of resin driveways do not have the proper skills to properly lay a driveway. The bad reputation that results from such installations is unfortunate.
It is costly to rectify a resin problem if it goes wrong since this is a complex product. Mixing substances in the correct proportions will prevent patchy looks, while temperature, humidity, and moisture conditions should be followed during the laying of the material. If there are any defects, you may have already paid for the item by the time the defects show up.
Many people have been left with defective resin finishes and firms that are no longer in business or refuse to pick up the telephone because of an unregulated industry characterized by fly-by-night operators.
This is why resin is ideal for normal commercial vehicle traffic only. Compared to block paving, the surface will degrade much more quickly if heavy vehicles use it frequently. It cannot be simply patched up either.
Choosing the best contractor
When shopping for landscaping products and services, the saying "buy cheap, buy twice" is more accurate than ever.
However, the contractor that you choose to work with needs to be thoroughly vetted.
As a result of doing this preliminary due diligence, you should be able to identify a few companies that you feel confident about. Alternatively, you can contact them by calling or submitting an enquiry. Be aware of how quickly your contractor responds to your inquiries or picks up the phone so that you can communicate easily with them. What is their level of responsiveness, professionalism, and helpfulness?