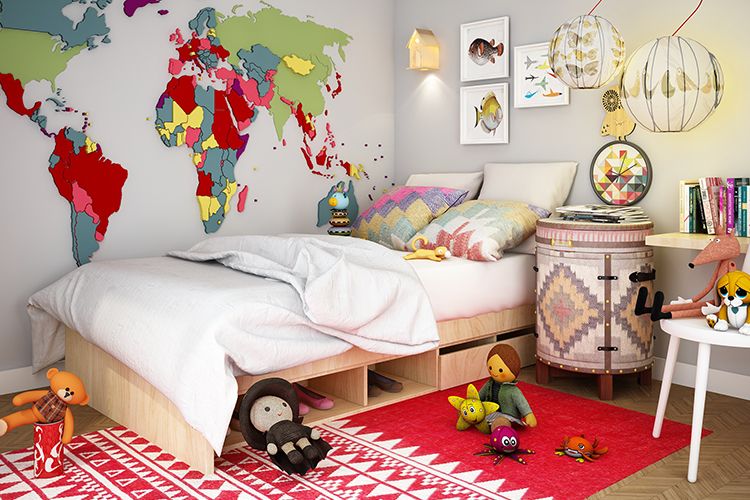 Remodelling your child's room can be a fun and exciting activity. Besides having the chance to transform the space into a friendlier and more educational environment, it is also an excellent opportunity to bond with your child.
Various home decorations for children's spaces have been developed, including kids' wall art and decorative toys. You only need a clear plan and a theme to achieve your design goals.
If you are looking for simple tips in children's room renovation, you've come to the right place. From nursery wall art to paint colours, here are three design ideas for the ideal kid's room.
Splash Some Colours
One of the simplest ways to completely change the appearance and vibes of any room is to add a touch of colour. 
But remember that your child can soon grow out of their interests, including their favourite colours, so take it easy on the paint.
We recommend keeping the walls white and then splashing some hues using decorations to ensure you don't get commitment issues in your child's bedroom. Hang vibrant paintings and curtains, place colourful rugs, and display various toys and ornaments to give a natural neutral setting you can update anytime.
Create an Activity Corner
Keep your children and their curious minds busy by providing a kid-friendly workspace. These little corners allow them to practice their skills and leverage their powerful imaginations for mental development.
You can place a desk and a chair, a lamp, some bookshelves, and dedicated storage containers where they can grab crayons, pencils, and craft materials. An activity corner can help them do homework, perform mini projects, and create art.
Hang Wall Art
Introducing your child to the world of art is the perfect way to nurture their creativity. Besides giving them pencils and paper to draw, hanging wall art in their room can teach them how to appreciate masterpieces.
When choosing wall art, consider buying pieces that can remain in your child's interest as they age. We recommend avoiding prints that include cartoon characters and over-the-top childish illustrations.
Online stores like Urban Road offer many children's wall art perfect for any style and age. Their high-quality prints include nature sceneries, minimalist illustrations, and elegant pictures of animals.