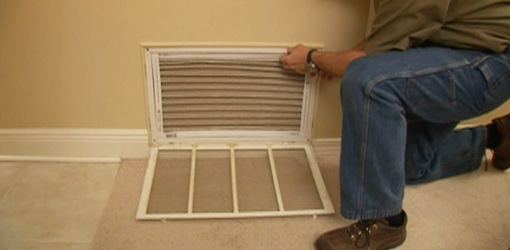 Add a little humidity to your home by simmering a pot on the stove. For special scents, add essential oils or citrus slices.

When the holidays come around, avoid placing decorations such as Christmas trees near HVAC vents so that the heat can spread throughout the room.

Clean your vents regularly to make sure you're getting fresh air in your house.

When the leaves start falling off of the trees, check to make sure your outdoor HVAC system isn't clogged.

In the winter, before using your fireplace, ensure that the chimney is cleaned out to avoid a fire hazard.

Before winter rolls around, check your house for drafts and cracks and reinsulate when necessary. Products labeled "low VOC" can help prevent toxic fumes from entering your home.

Shade your air conditioning system to prevent your HVAC from working overtime.

Test your home for radon gas.

Clear plants and berries from your outdoor HVAC system.

Buy an HVAC in a size that corresponds with the size of your home to increase energy efficiency.

If your HVAC isn't working during the summer, use cotton or linen sheets to cool down.

Clear your AC's drain regularly.

Ventilate your attic to prevent heat buildup.

Use light-colored blinds to reflect sunlight and heat from the home during the summer.

Separate your HVAC and heating appliances to avoid an incorrect thermostat reading.

In the winter, open the blinds to let the sunshine in and warm up your home.

Install smoke and carbon monoxide alarms in your home to protect you and your loved ones.

Use space heaters in rooms that have difficulties warming up.

Add an extra layer of insulation to your home.

Wipe dust from around your heating, ventilation, and air conditioning unit.

Use ceiling fans and handheld fans rather than excessive air conditioning during the summer.

Seal chimneys, windows, doors, attics, and basements during the winter to prevent drafts.

Make sure your furnace flame is blue without any streaks of yellow or orange.

Check your HVAC system wires for deterioration or exposure to excessive heat.

Insulate your leaky air ducts.

Refill your air conditioner's refrigerant.

Ascend HVAC, located in Bountiful, Utah, is a heating, ventilation, and air conditioning service company that focuses on customer needs. If your furnace or air conditioning system could do with some updates and repairs, put your faith in Ascend HVAC and hire a contractor to evaluate your home and make any necessary or desired adjustments.
Ascend HVAC, located near Fruit Heights is an HVAC service company that focuses on customer needs.