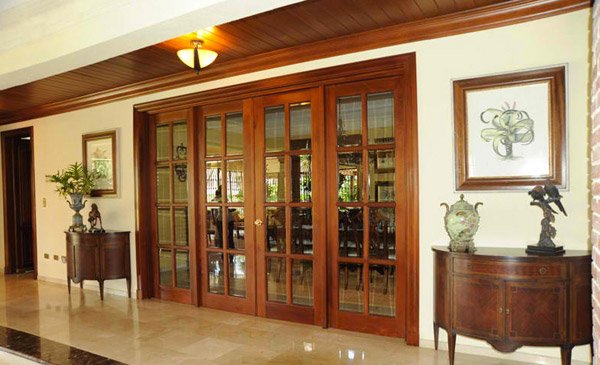 Bi fold doors have been around for centuries, and they're becoming more popular than ever. They can provide a decorative touch to your home that other kinds of doors can't, as well as open up a room to make it look larger. If you're looking for ways to spruce up your home decor and create a bit of space at the same time, Bi fold doors may be exactly what you're looking for. Let's explore some of the benefits that Bi fold doors bring to home decor. 
Flexibility & Space-Saving 
One of the biggest advantages of Bi fold doors is how flexible and space-saving they are. Because they fold out of the way when not in use, they don't take up any extra room in your home. This makes them ideal for smaller spaces where every inch counts. They also give you more flexibility when it comes to decorating, since you can move them around whenever you want without having to worry about taking up too much floor space. 
Visually Appealing Design 
Bi fold doors come in many different designs and materials, so there is sure to be an option that fits your home's aesthetic perfectly. Whether you prefer something sleek and modern or ornate and traditional, there are plenty of options available to choose from. Plus, because these types of doors come in so many different colors and finishes, it should be easy to find one that matches the rest of your home decor perfectly. 
Bi fold doors also provide a great way to divide large rooms into separate sections for added privacy and convenience. This can be especially helpful if you need to create an office space in an otherwise busy living room or split up a bedroom into sleeping and studying areas. By using these types of doors, you can easily section off part of your house without having to do major remodeling or renovations. Lastly, Bi fold doors are a great way to let light into your home without compromising privacy. These doors are designed to open up wide enough for natural light to enter the space, but still be opaque enough to provide privacy from the outside world when closed.
Wide Range Of Uses 
Another great benefit of Bi fold doors is their versatility; they can be used in a wide range of applications throughout the home. For example, you could use them as partition walls between two rooms or as closet doors for extra storage space. You could also use them as patio or balcony doors if you want some extra protection from the elements while still letting plenty of light into your house. With so many possibilities available, it shouldn't be too hard to find a creative way to incorporate Bi fold doors into your interior design plans! 
Conclusion: 
Bi fold doors offer a unique solution for homeowners who are looking for ways to spruce up their decor while still saving on space. Not only do they provide flexibility when it comes to placing them within a room but their visually appealing design means they will look great no matter where you put them! Furthermore, their versatility makes them perfect for just about any application within the home – from partition walls between two rooms to patio or balcony door replacements – so really anyone can enjoy all the benefits these types of doors offer! So next time you're thinking about sprucing up your home decor with something special, why not consider giving Bi fold doors a try? You won't regret it!